Troy's Best Industrial Air Compressor Companies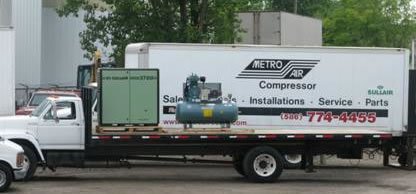 Metro Air Compressor specializes in the sale and installation of compressed air systems for Troy area industrial and commercial businesses. Established in 1975, we represent quality companies like Sullair, Hitachi, Curtis, Zeks, and Chicago Pneumatic. Our products include rotary screw compressors, piston compressors, vacuum pumps, dryers, filtration, and water cooling systems.
Metro Air Compressor has hundreds of years of combined staff experience to assist with your rotary screw air compressors, reciprocating air compressors, centrifugal compressors, vacuum pumps, refrigerated dryers, desiccant dryers, filtration, flow controllers, storage and distribution systems needs. We also install full systems with our professional and dedicated installation department. Our experienced System Specialist can save you money with their knowledge of the widest range of compressor controls on the market.
Audits: How Efficient is Your Compressed Air System?
Let us lower your life-cycle cost by doing an audit. Our air system audit tools get you the most accurate data possible on your current system conditions. This data will determine the path to cost-saving solutions. We have three different levels that allow you to tailor the audit to your specific needs. Learn more about our air system audits.
| | |
| --- | --- |
| A 100HP air compressor costs up to $40,000 per year to operate - in energy alone. And up to 50% of it is wasted | Electricity constitutes on average 82% of compressed air system operating costs over a 10 year period. |
New Compressed Air Systems in Troy, MI
Metro Air provides all your compressed air needs from 2 through 600HP. From stationary to portable, oil lubricated to oil free, we have it all for you.
Rotary Screw Compressors

Rotary screw air compressors provide 100% of continuous duty cycle from 5 to 600hp. The robust compressors from Sullair are a true icon in the compressor industry, known for their longevity and outstanding warranties they are also the most energy efficient in the industry. We offer the widest array of controls to meet your demand needs.
Sullair ShopTek
5-20 hp

Sullair 5-25 hp

Sullair 30-50 hp

Sullair 60-100 hp
| | |
| --- | --- |
| | |
| Sullair 125-350 hp | Sullair 400-600 hp |
---
Piston Compressors
We carry FSCURTIS and Chicago Pneumatic reciprocating air compressors. Used in applications where compressed air requirements are low, piston compressors are available in many versions, making them suited to any production activity. Mobile, low- or high-pressure, on-frame or vessel-mounted, they are designed to meet intermittent compressed air demands.
We stock all makes and models including gas-powered and portable. Different styles for different applications, such as high pressure applications. Let us help you choose the right compressor for your needs.
| | |
| --- | --- |
| | |
| Curtis Piston | Chicago Pneumatic RCP-226VP |
---
Oil-Free Compressors

If your application requires the up most quality of air, then Oil Free is where you need to look. Without adding any oil into the air stream, these compressors run with a 100% duty cycle and range in sizes from 2 to 315hp. If it is paint, pharmaceutical, food and beverage, or just part of your process where you cannot have any chance of adding oil into your process, we have the compressor for you. With all different styles of controls, we will match your needs.
Ohio Medical
Oil Free Scroll

Hitachi Oil Free
Rotary Screw

Hitachi Oil Free Scroll
---
Portable Air Compressors

Do you need to take the compressor to the job site? We offer truck-mounted and towable compressors. With the long lasting air ends by Sullair and the optional engines from Cat or John Deere, these compressors are built for the toughest jobs and to be reliable to get your job done on time.

Sullair Portable Air Compressor
---
Used Air Compressors
| TYPE | HP/CFM | MODEL | MAKE | VOLTAGE |
| --- | --- | --- | --- | --- |
| ROTARY | 60 HP | V160-60L | SULLAIR | 460/3 |
| ROTARY | 200 HP | TS20-200 | SULLAIR | 460/3 |
| DRYER | 700 CFM | RC-700 | SULLAIR | 460/3 |
| ROTARY | 40 HP | BS44 | KAESER | 460/3 |
| DRYER | 50 CFM | RN-50 | SULLAIR | |
| DRYER | 325 CFM | SR325 | SULLAIR | 230/3 |
| ROTARY | 150 HP | V200TS-150L | SULLAIR | 460/3 |
| PISTON | | IR7100 | IR | |
| ROTARY | | QSF50 | QUINCY | |
* This list may not be updated. For a list of our current inventory, please contact Metro Air Compressors by phone or online form.
---
Benefits to Metro Air Installations:

Dedicated to compressed air installations
We know the equipment we are installing
Custom duct work
Trouble shoot capabilities
Professional piping installations

Large amounts of inventory that we bring to the job with us
No need to wait for parts needed
Responsive to your needs
Works direct with our Sales Engineers
Competitively priced!
Hear directly from our satisfied customers:
"Our air compressor is running great and I can only thank Metro Air Compressor's installation team for the awesome job. The staff was very professional and courteous during the entire process. They were quick on getting us up and running with no down time." - Martin D.
"The Metro Air crew handled themselves in a very safe and professional manner and cleaned up the area in the plant at the end of each shift. I look forward to working with you and the installation team on future projects." - Pat A., Hatch Stamping
---
For all your compressed air system needs, contact the expert team at Metro Air Compressors. Our technicians have hundreds of years of combined experience in the industry and have the knowledge to keep your operation running smoothly.