Southfield's Best Source for Portable Air Compressors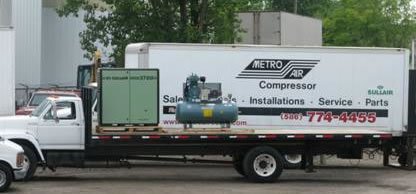 Metro Air Compressor specializes in the sale and installation of compressed air systems for Southfield area industrial and commercial businesses. Established in 1975, we represent quality companies like Sullair, Hitachi, Curtis, Zeks, and Chicago Pneumatic. Our products include rotary screw compressors, piston compressors, vacuum pumps, dryers, filtration, and water cooling systems.
Metro Air Compressor has hundreds of years of combined staff experience to assist with your rotary screw air compressors, reciprocating air compressors, centrifugal compressors, vacuum pumps, refrigerated dryers, desiccant dryers, filtration, flow controllers, storage and distribution systems needs. We also install full systems with our professional and dedicated installation department. Our experienced System Specialist can save you money with their knowledge of the widest range of compressor controls on the market.
Financing - Upgrade Your System Without the Large Capital Expense
Metro Air has a strong track record of working with customers to handle practically any budgetary constraint. With flexible financing and payment options of 12 to 60 months, we have the tools to make your investment as easy and painless as possible. Using one of many financing options to replace your outdated air compressors with new, highly efficient equipment can actually help you become cash positive.
| | |
| --- | --- |
| Energy savings with new compressor | +$1,495.00 (per month) |
| Payment with 36-month financing | $1,350.00 (per month) |
| Cash flow increase | $145.00 (per month) |
New Compressed Air Systems in Southfield, MI
Metro Air provides all your compressed air needs from 2 through 600HP. From stationary to portable, oil lubricated to oil free, we have it all for you.
Rotary Screw Compressors

Rotary screw air compressors provide 100% of continuous duty cycle from 5 to 600hp. The robust compressors from Sullair are a true icon in the compressor industry, known for their longevity and outstanding warranties they are also the most energy efficient in the industry. We offer the widest array of controls to meet your demand needs.
Sullair ShopTek
5-20 hp

Sullair 5-25 hp

Sullair 30-50 hp

Sullair 60-100 hp
| | |
| --- | --- |
| | |
| Sullair 125-350 hp | Sullair 400-600 hp |
---
Piston Compressors
We carry FSCURTIS and Chicago Pneumatic reciprocating air compressors. Used in applications where compressed air requirements are low, piston compressors are available in many versions, making them suited to any production activity. Mobile, low- or high-pressure, on-frame or vessel-mounted, they are designed to meet intermittent compressed air demands.
We stock all makes and models including gas-powered and portable. Different styles for different applications, such as high pressure applications. Let us help you choose the right compressor for your needs.
| | |
| --- | --- |
| | |
| Curtis Piston | Chicago Pneumatic RCP-226VP |
---
Oil-Free Compressors

If your application requires the up most quality of air, then Oil Free is where you need to look. Without adding any oil into the air stream, these compressors run with a 100% duty cycle and range in sizes from 2 to 315hp. If it is paint, pharmaceutical, food and beverage, or just part of your process where you cannot have any chance of adding oil into your process, we have the compressor for you. With all different styles of controls, we will match your needs.
Ohio Medical
Oil Free Scroll

Hitachi Oil Free
Rotary Screw

Hitachi Oil Free Scroll
---
Portable Air Compressors

Do you need to take the compressor to the job site? We offer truck-mounted and towable compressors. With the long lasting air ends by Sullair and the optional engines from Cat or John Deere, these compressors are built for the toughest jobs and to be reliable to get your job done on time.

Sullair Portable Air Compressor
---
Used Air Compressors
| TYPE | HP/CFM | MODEL | MAKE | VOLTAGE |
| --- | --- | --- | --- | --- |
| ROTARY | 60 HP | V160-60L | SULLAIR | 460/3 |
| ROTARY | 200 HP | TS20-200 | SULLAIR | 460/3 |
| DRYER | 700 CFM | RC-700 | SULLAIR | 460/3 |
| ROTARY | 40 HP | BS44 | KAESER | 460/3 |
| DRYER | 50 CFM | RN-50 | SULLAIR | |
| DRYER | 325 CFM | SR325 | SULLAIR | 230/3 |
| ROTARY | 150 HP | V200TS-150L | SULLAIR | 460/3 |
| PISTON | | IR7100 | IR | |
| ROTARY | | QSF50 | QUINCY | |
* This list may not be updated. For a list of our current inventory, please contact Metro Air Compressors by phone or online form.
---
What do our customers have to say about our service?
"I just wanted to drop you a line and let you know how impressed I was with the installation and start up on my compressor. Both Will and Tim did a great job. The job is incredibly neat, Will and Tim were very professional and both took the time to answer my questions and offer suggestions. I could not be more pleased. Legend strives for astonishing service with our own customers and it's important to us to acknowledge it when we experience it ourselves. Well done. Thank you!" - Larry E., Legend Valve
"Our ducts look great and will hopefully help us out through the summer months when we typically struggle with excess heat. I want to thank the Metro Air Compressor team for a job well done." - Ryan P.
---
For all your compressed air system needs, contact the expert team at Metro Air Compressors. Our technicians have hundreds of years of combined experience in the industry and have the knowledge to keep your operation running smoothly.