Dependable Industrial & Medical Vacuum System Sales, Repairs & More in Roseville, MI
---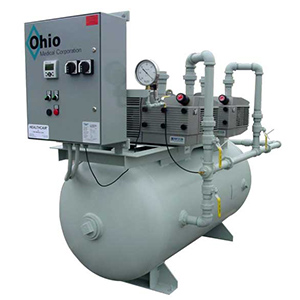 Do your business processes require a vacuum?
If so, we can provide an energy-efficient solution tailored to your vacuum needs. Rotary screw technology goes into a deeper vacuum than normal pump-style units, giving your business the results it needs. At Metro Air Compressor, we are committed to pairing our clients with a perfect vacuum system for their processes.
---
Our vacuum systems are smooth running, pulse-free and give long-term dependability that is unmatched in the area.
When compared to other vacuum systems, ours are over 50% more cost-effective, giving your business more monetary flexibility when tending to other equipment. These perform notably better than dry vane pumps and those involving oil sealant. Our selection of vacuums includes the quietest equipment in the industry, producing far less sound than other technologies.
Vacuum Brands We Carry:
Sullair
Ohio Medical Corporation
---
Sullair's series of vacuum pumps offer users consistent operation and cost-effective performance.
The structure of each vacuum is rigid and silent, giving them great attention in the industry. They are manufactured with the highest quality of components and offer the reliability of screw mechanism, maximum reliability and very low maintenance costs.
Sullair vacuum pump systems have very high operating efficiencies; they can reduce energy consumption by at least 20% compared to other types of vacuum pumps! In the working process, a liquid ring vacuum pump is unstable in creating new energy due to coolant temperature issues, while the vanes of sliding vane vacuum pumps are known to wear off in operation. Both of these different types of vacuums cannot match the stability and reliability offered by Sullair's vacuum systems!
---
Ohio Medical Corporation's rotary vane vacuum pumps are ideal for both industrial and medical applications.
Rotary vane vacuum pumps are positive-displacement pumps containing an impeller with vanes. This impeller is powered by an induction motor and is offset from the center of the cylindrical body of the pump. The counterweight means the vanes are closer to the top of the pump's body and farthest away from the bottom.
The sporadically-installed vanes divide the working chamber into two compartments with different volumes. As the impeller rotates, air flows into the enlarging suction chamber until it is closed by the second vane. As the impeller continues to rotate and decreases volume, the enclosed air is compressed on the way to the outlet valve. Ohio Medical Corporation offers a great selection of rotary vane vacuum pumps, and paired with Metro Air Compressor's expertise, we can find the perfect vacuum for your business!
To learn more about our vacuum products or to request an installation or repair, contact Metro Air Compressor today!